Thomas COVID-19 Resource Hub
To support the industry in the fight against COVID-19, the Thomas team launched this page to provide mission-critical, real-time information and is actively collaborating with industry stakeholders to get key supplies and materials to those on the frontlines.
To use this Resource Hub, click the option below that most closely matches your need:
Find COVID-19 Response Suppliers with the Supplier Discovery Tool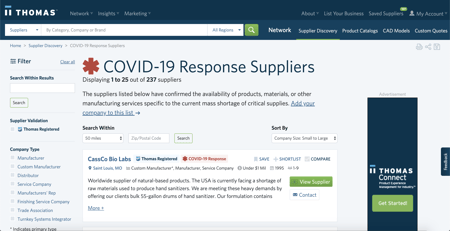 To source critical COVID-19 related products or services, click here to source directly from companies that have said they can supply COVID-19 response products/services. Use the "COVID-19 Response" filter to discover, evaluate, and connect with suppliers that you need right now.
If you are a hospital or other group operating on the frontlines of COVID-19 with an open P.O. to fulfill critical COVID-19-related product/service needs, click here.
Quick Links for Critical COVID-19 Medical Supply Categories

Below is a list of critical medical supply categories seeing the most demand right now. (Click the links to see suppliers serving those key categories.)
Click here for more information on the top COVID-19-related product categories with the most sourcing activity right now.
More About Thomas COVID-19 Response System
This in-depth webinar provides an overview of the Thomas Response System, including how we mobilized and validated over 1,700 manufacturers to help fight this pandemic.
How to Source on Thomasnet.com
If you haven't used Thomasnet.com before or would like a quick refresher, please check out this two-minute overview to help you source more efficiently.
Tell Us What You Can Provide
We are working with state and federal government offices to mobilize manufacturers who can produce COVID-19-critical products and supplies. If you already manufacture or can rapidly pivot to manufacture these products, please complete this form.
Get Badged as a COVID-19 Response Supplier
If your business is already listed on Thomasnet.com and you are producing critical COVID-19-related materials, complete this form to have your listing updated to reflect these capabilities. (Note that your Thomasnet.com company profile will not be updated with the COVID-19 Response Supplier badge unless you complete the form.)
All verified manufacturers responding to the call to support COVID-19 efforts will:
Be listed in the "COVID-19 Response" category on Thomasnet.com with customized descriptions based on the response capabilities offered
Have a "COVID-19 Response" badge displayed on their company profile and will remain visible in all relevant categories for the duration of this crisis
For more information on this badging program, please review our FAQs.
Not Yet Registered on Thomasnet.com? Sign Up for Free
By registering on Thomasnet.com, buyers and engineers sourcing products and services can find your business quickly and easily. After receiving your submission, our team will review your website, create your company profile on Thomasnet.com, and add your business to the appropriate categories in our 70,000+ category taxonomy of the manufacturing and industrial space. You do not need to take any further action after submitting your business to be listed.
Connect with State, Federal, and Independent Groups Looking for COVID-19 Supplies
If you are a hospital or other group operating on the frontlines of COVID-19 with an open P.O. to fulfill critical COVID-19-related product/service needs, click here.
Face Shields
Multiple manufacturers and independent groups have made face shield templates available:
Face Masks
Face Mask Adjuster
Respirators
NIH 3D Print Exchange has a variety of respirator, face shield, and other 3D printed medical supply designs available.
Ventilators
Hands-Free Door Opener
HP published designs for two 3D printed door openers - one to be attached to a door handle, the other to be held in the user's hand as a personal opener, to limit the transfer of germs on door handles with frequent use.
Hand Sanitizer
A number of groups have published approaches for creating your own hand sanitizer, including:
Medical Devices
iFixit has created a database of over 63,000 medical device manuals to help biomedical technicians with repairs during the pandemic.
Which option best describes your current situation?
I'm ready to go, I just need drawings/specs.
Click the section above to see links to view designs, templates, and other key files for producing face shields, face masks, ventilators, and hand sanitizer. We have also created this comprehensive overview on how to make PPE for manufacturers.
More details can also be found in our guides on manufacturing surgical masks, N95 respirators, ventilators, gloves, cloth masks, face shields, and protective gowns.
I'm ready to go, I just need to know who needs these supplies.
We are working with state and federal government offices to mobilize manufacturers who can produce COVID-19-critical products and supplies. If you already manufacture or can rapidly pivot to manufacture these products, please complete this form.
More than 35 U.S. governors and Canadian premiers have issued executive orders over the past few weeks mandating non-essential workers to stay home in an effort to avoid further amplifying the spread of COVID-19.
It is important to note that some businesses, including manufacturing and often construction or trucking, have been deemed essential and are exempt from these mandates.
Click here for specific state-by-state information, links, and essential business listings on shutdowns across the U.S. and specific provincial closures across Canada. The page is updated multiple times a day to reflect the latest closures.
The Institute for Health Metrics and Evaluation is also tracking COVID-19 measures, spread, and projections on a state-by-state basis for both the U.S. and Canada, with frequent updates.
Our team has compiled a number of useful internal and external resources for your reference as you continue to guide your team and business through these uncertain times.
Free Tools to Help Your Team
Keep Your Business Running Smoothly
Keep Your Team Healthy and Working Efficiently
Participate in the Thomas Industrial Survey Panel
Join the Thomas Industrial Survey Panel to help us collect business intelligence that we share for free on a monthly basis through the Thomas Industry Updates newsletter.

We conduct monthly surveys to benchmark the impact of COVID-19 on manufacturing by sector to capture fast-moving intelligence to share with the industrial community. By combining our platform data with a monthly survey taken by more than a thousand manufacturing companies from across diverse sectors, including manufacturing, aerospace & defense, oil & gas, and pharmaceutical, we are better positioned to understand the immediate effects and emerging trends on coronavirus impacts on the manufacturing community.
Monthly COVID-19 Industrial Impact Surveys
Our monthly surveys benchmark the impact of COVID-19 on the manufacturing sector by capturing fast-moving intelligence to share with the community.
Thomas Manufacturing Index
The Thomas Manufacturing Index, or "TMX", is a new index that measures industrial activity in the United States and Canada. Every day thousands of engineers, procurement professionals, and logistics companies use Thomasnet.com to source suppliers and partners, download product specifications, and submit requests for proposals. These tens of thousands of daily actions are fundamental to industrial production and represent a true measure of the health of the manufacturing sector.
TMX is built with first-party data representing a highly diverse set of companies including Fortune 1,000, Mid-Market, and SMBs. This depth and breadth of coverage makes TMX one of the most powerful financial and economic forward indicators to date.
For more information on TMX or to view recent Thomas Index Report videos featuring Thomas CEO and President Tony Uphoff, click here.
Press Room
Click here to visit our Press Room for recent appearances on CNN, Yahoo Business, and more.
Contact Us
To arrange an interview or submit a media inquiry, please contact:
Rita Lieberman at rlieberman@thomasnet.com
Alex Kofsky at alexrosengrouppr.com
The purpose of the Thomas COVID-19 Resource Hub is to help connect manufacturing and industry professionals with useful information pertaining to the fast-developing nature of the COVID-19 pandemic and its impacts on the industry. If you have feedback on the quality of the content of this hub, you can click the blue 'Feedback' tab on the right side of the page to share your thoughts and experience. While we endeavor to curate and create the most up-to-date information, please note that this hub is subjected to updates in real-time and we cannot guarantee 100% accuracy. Please also note that Thomas does not provide, endorse, or guarantee any third-party product, service or information. Thomas is not affiliated with the vendors featured on this Resource Hub and is not responsible for their products and services. The Thomas COVID-19 Resource Hub may contain links to other websites not maintained by us. We are not responsible for the practices or the content of such other websites and apps.