Thomas COVID-19 Response System - Frequently Asked Questions
To support the ongoing efforts to overcome the current pandemic, Thomasnet.com® launched the COVID-19 Response System to help mobilize the manufacturing community to support government agencies, hospitals, and infrastructure groups. Our goal is to help these organizations locate critical suppliers efficiently and effectively. There are three integral parts to the COVID-19 response system:
Getting involved:

Fill in this form if you are interested in helping, that includes sales and donation of both services and products. Validated suppliers who fill in the form will be added to the COVID-19 Response page.

Sourcing suppliers:

Search from the growing-list of suppliers that have already volunteered to help on the COVID-19 Response Page.

Staying up-to-date:

Bookmark the Thomas COVID-19 Resource Hub where we share fast-moving manufacturing updates with practical guides and actions.
Here are some of the frequently asked questions we gathered from the manufacturing community:
The COVID-19 Response page is specifically designed to help buyers efficiently identify suppliers who can service critical supply categories during this pandemic. Even if your company is already listed on Thomasnet.com, in order to be added to this COVID-19 Response category, you will need to fill out this form.
Companies will need to use this form to explain how they specifically plan to help.
E.g. A respirator manufacturing company letting us know how they are going to increase capacity, or a machining shop planning to pivot their resources to assist in the manufacturing of mission-critical supplies. Based on the input, our team of expert supplier analysts update the company profile with the COVID-19 Response badge and place the company into the most suitable categories.
You will receive a confirmation email and our supplier analyst team will validate the information submitted.
If your business is approved, our supplier analyst team will update the COVID-19 Response page and related categories to include your business, and the COVID-19 Response badge will be added to your company profile.
Additionally, you will receive an email with the material to identify your business as a Thomas COVID-19 Response Supplier on your website and social media.
Lastly, we'll include a survey link in your confirmation email. This survey will help us better identify the products and services you have available so we can direct more relevant RFIs and RFQs to your business.
While we endeavor to process your entry as quickly as possible, due to the volume of submission, our current estimated process time is 72 hours.
Supplier placement is based on Thomasnet.com's existing ranking algorithm. Users can also apply filters (on the top right-hand corner above the results) to change the order of the suppliers based on data items when available, such as company size, revenue, and year founded: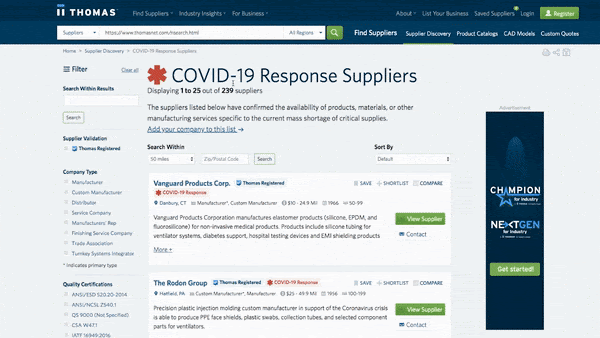 Please use the 'Feedback' link located in the top right-hand corner of your company profile page:
Yes, you can filter search results in the top left-hand corner of the COVID-19 Response Category page. You can input keywords into the search fields to look for specific products or suppliers: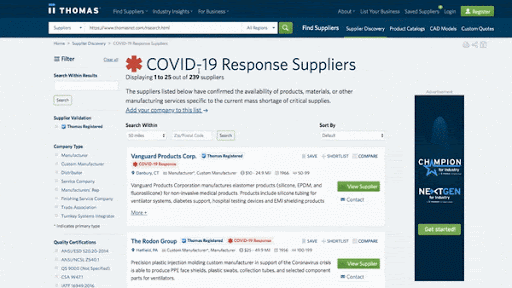 Thank you for your willingness to assist during this pandemic. If your questions weren't answered here, please select the blue "Feedback" button on the right-hand side of this page to submit your questions.
Remember you can also subscribe to our daily newsletter, Thomas Industry Updates, to stay abreast of the situation. Thank you for your interest in this project.