You can add multiple filter criteria when searching for a product or service on the Supplier Discovery platform to find the best supplier for your job.
1. Start on our Supplier Discovery database of over 500,000 North American suppliers

2. Enter your search query
Select a category in the drop-down menu from product/service, company, or brand. Then, enter your search and click the Search button (or select from the options in the drop-down menu). You can also enter filters on the first page to narrow your results immediately, but we'll go through the step-by-step process below.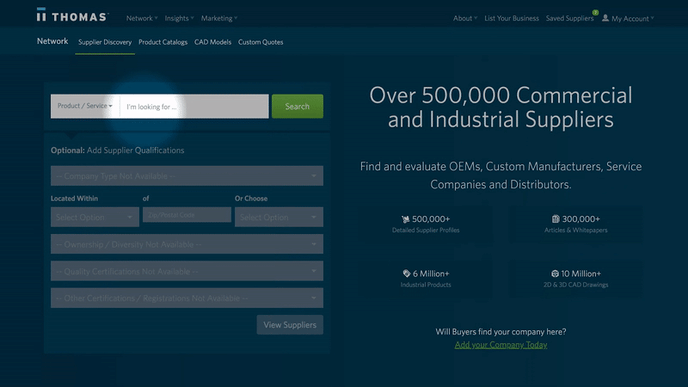 3. Add supplier qualifications via the filter options
Once in a supplier search the filters options available include Company Type, Location (mile range, Zip/Postal Code, Region), Ownership/Diversity, Quality Certifications, and Other Certifications/Registrations. We'll cover a few examples below:
Location
There are two methods to search by location:
Search Within
At the top of a supplier search, you can narrow your results by location using zip code radius. Simply enter the area you'd like to cover and the zip/postal code and hit "Search."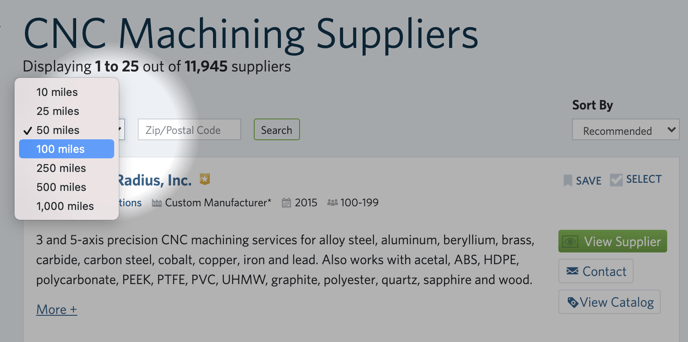 Locations Served
Using the left-hand rail, scroll down to Locations Served to select the region you're interested in. Once this populates, you can select whether you want to see suppliers located in the area you've chosen or ones that serve that area.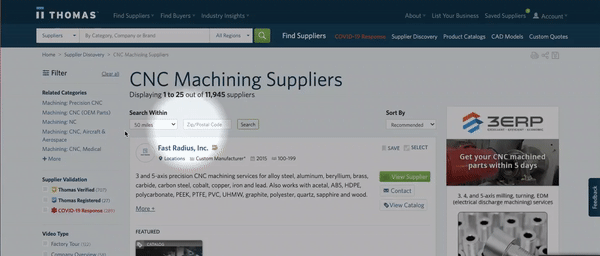 Company Type
Using the left-hand rail, scroll down to Company Type and select the type of company you're looking for such as manufacturer, distributor, or service company.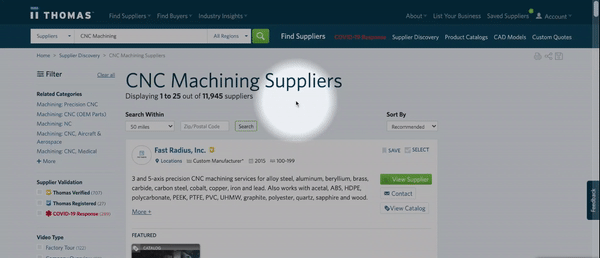 Keyword
Using the left-hand rail, scroll down to Search Within Results to enter a keyword to help narrow your results. Helpful keywords can be a type of material (such as wood or glass), a brand name, or other keywords that may not be an option in the main search function.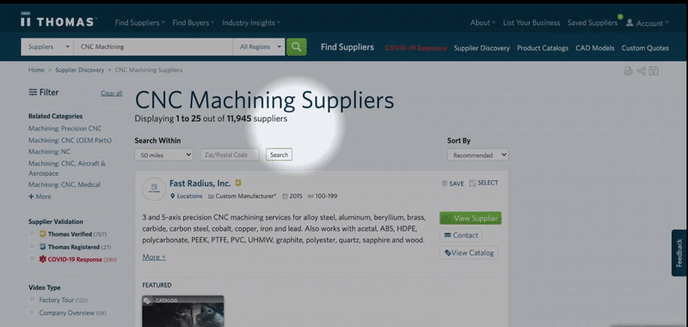 4. Add or remove filters to refine your search
All filters can be layered on top of each other. Enter the most vital filter first and narrow your list from there. You can also easily remove filters that you don't need by unselecting their corresponding checkbox or removing it from the top of the search results page.