Session Graph & Target Customization
Targets that you customize, including Industry, Revenue Range, Company Size, Geography, and High Value Pages Visited appear as the darker shade of blue on the graph. The lighter shade of blue encompasses all sessions seen on your site in the selected time frame.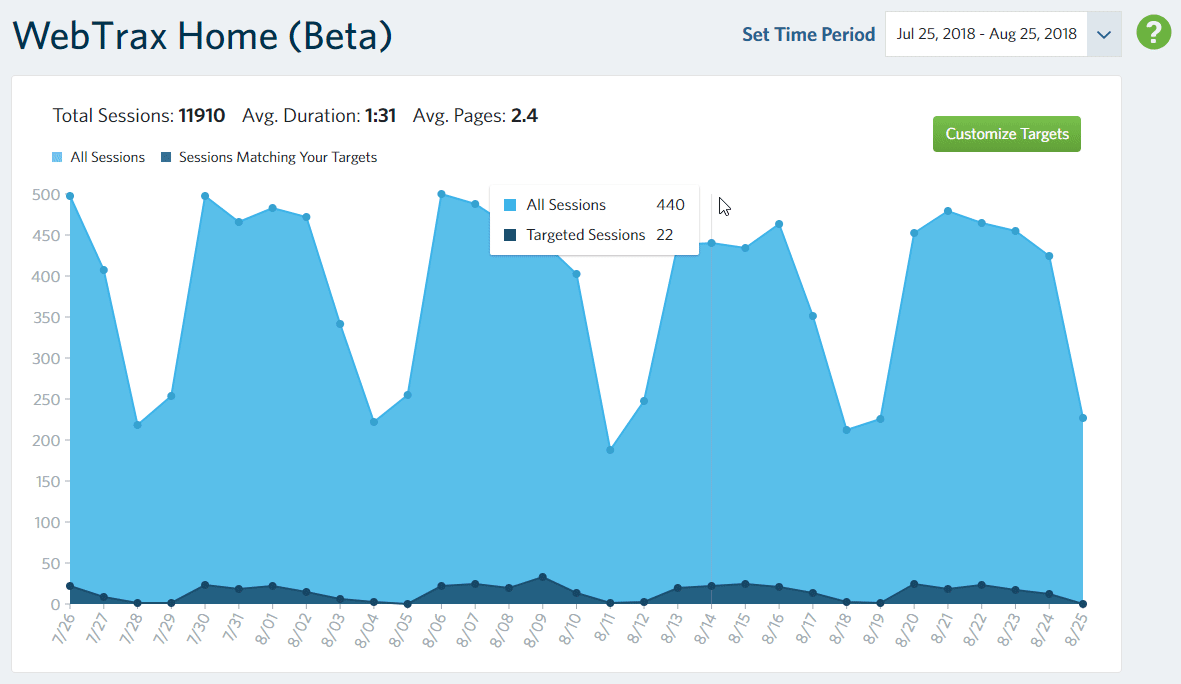 See Customize Targets for more information.
---
Time Frame Selection
Click on the date drop down menu in the upper right hand corner of your screen to edit the time frame of your Thomas WebTrax reporting. Within this drop down menu, you can click on two separate dates on the two calendars or you can type your desired dates using your keyboard in the two date boxes on the right. Click "Apply" to see your WebTrax data updated to the new time frame.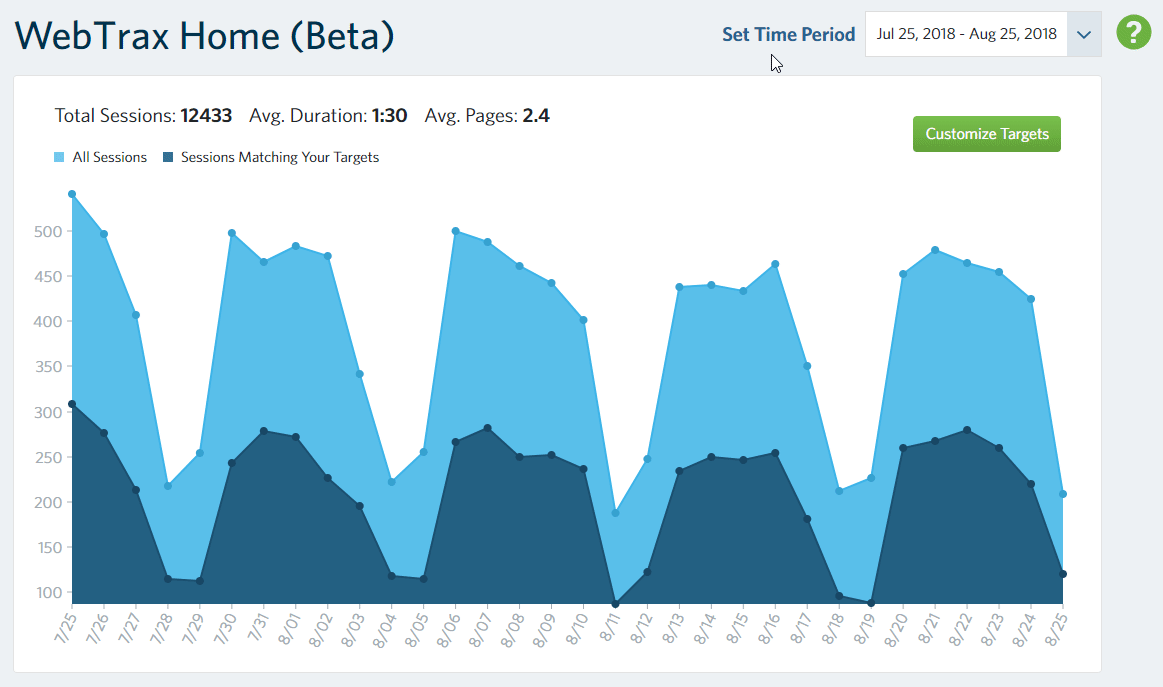 ---
Most Active Identifiable Audience
Out of all the sessions on your site in the selected time frame that were able to be identified to a Company Name, these are the most active ones by quantity of page views. The icons underneath the Company name represent the location of where the activity occurred, whether on the Thomas Network platform or your own website, as well as any tracked actions the visitor took. Click on a visitor name to see all of their sessions within your selected time frame.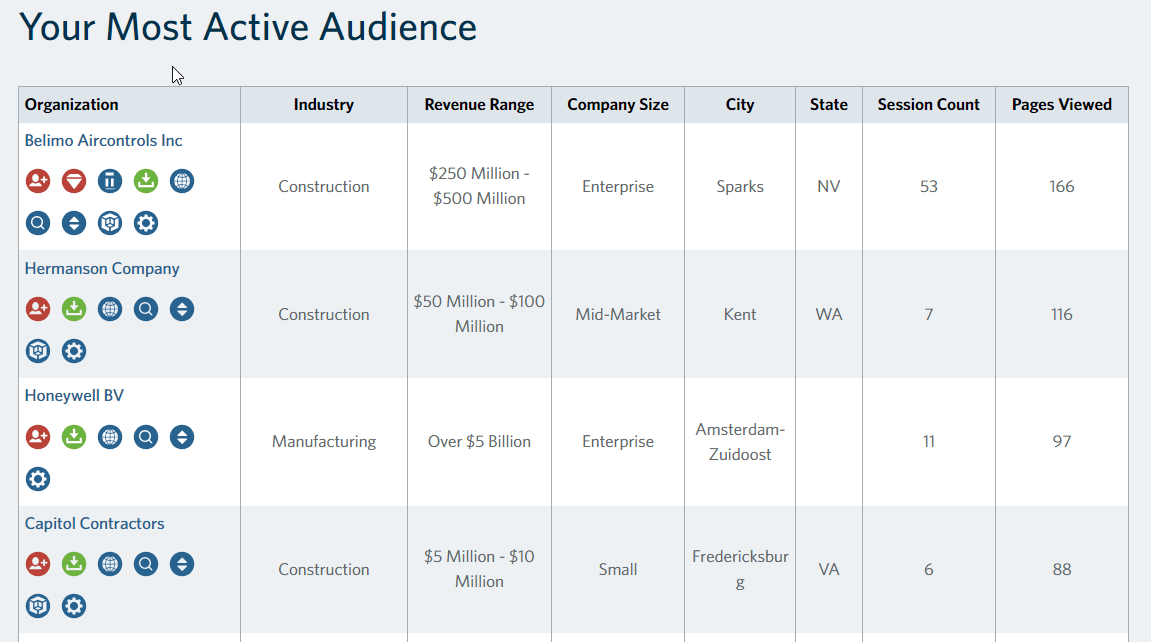 Note that certain icons are only available for Thomas clients. See Action Icons for more information on icons and the actions they track. See All Sessions for more information on individual sessions.
---
Thomas RFIs & Phone Calls
Review the RFIs and Phone Calls from Thomasnet.com users, classified by type and with call summary notes provided for Phone Calls. Includes RFIs submitted through the Thomas Network, and Phone Calls made on the Thomas Network or your own website by Thomas Network users.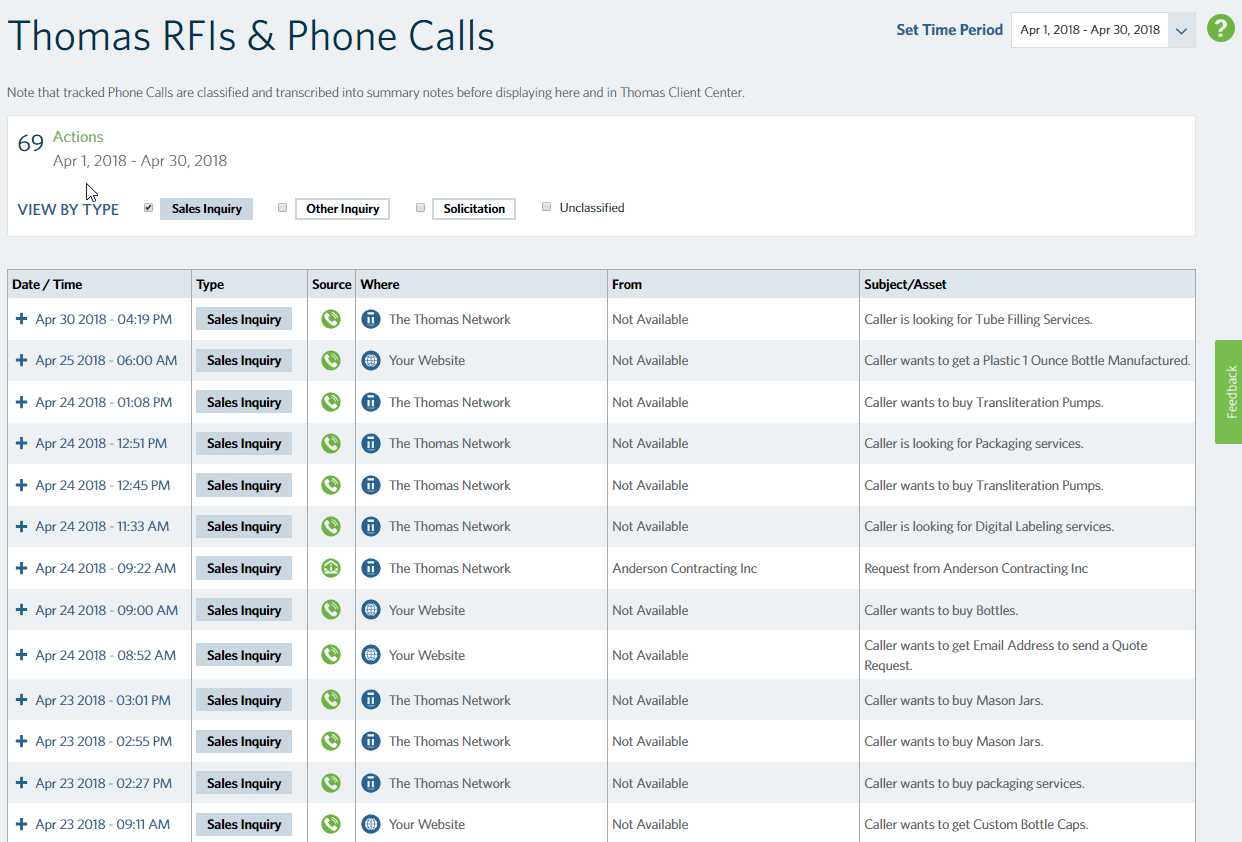 Note that only Thomas clients are able to receive RFIs through the Thomas Network and use tracked phone numbers on the platforms. Phone call tracking, classification, and summary note generation are free value-added services for Thomas clients. Displaying a tracked phone number on your own site that only Thomas Network users can see requires Dynamic Number Insertion, another free service for Thomas clients.
---
Help Pane
For a quick view of the Icon legend and link to this WebTrax help site, click the Question Mark Icon in the top right of any page. You can also mouse over icons to see the name.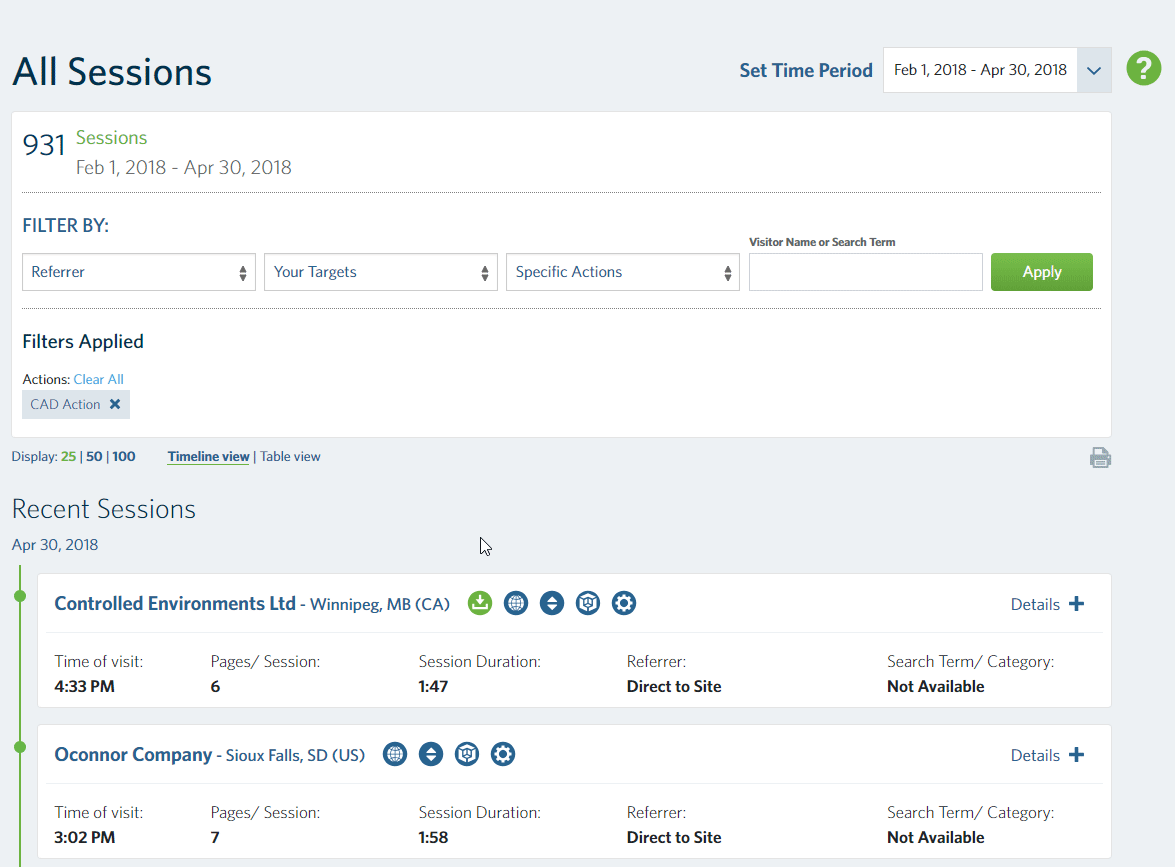 View the Action Icons page for full definitions — certain ones only display for Thomas clients.
---
Definitions
Total Sessions
Total number of individual sessions for date range specified.
Session
A session is defined as the activity that a user with a unique IP address performs on your website before a period of continuous inactivity elapses. For WebTrax, the period of inactivity time that ends a session is 30 minutes. If the visitor stops browsing your website and comes back to your website within 30 minutes, it is still considered one user session. If the visitor returns to your site after the 30 minute inactivity time period has expired, it is counted as a separate session.
Average Duration
The average time duration per session within your selected time frame.
Average Pages
The average amount of pages viewed on your website per session within your selected time frame.