As the leading North American sourcing platform, we have prided ourselves on providing reliable and actionable information that helps industry professionals get the job done since 1898.
Companies from small businesses to Fortune 500 organizations source using our platform, and our catalog libraries are supplemented with products directly from top manufacturers. Thomas is also a trusted data resource for major media outlets such as CNN and the Wall Street Journal.
We are a company of engineers, analysts, researchers, and experienced experts in the industrial marketplace working to help the North American manufacturing industry grow. We'll be going over the processes behind our most popular services that ensure we offer the best and most reliable intel and services for industry, from our 500,000+ detailed supplier profiles to our industrial surveys and reports.
How We Validate Supplier Profiles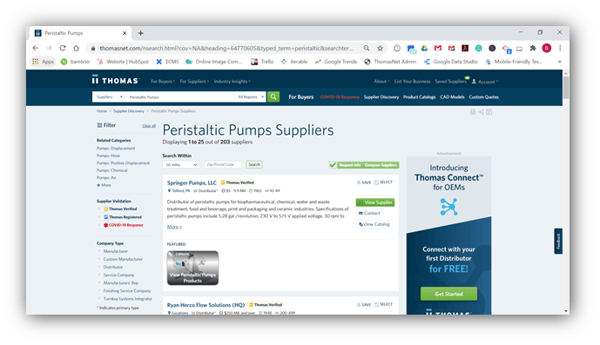 As our most major offering, there are over 500,000 North American supplier profiles across Thomasnet.com, and every one of them has been added and updated by one of our 100+ expert supplier analysts and engineers. How trusted are our listings? 93% of Fortune 1000 companies use Thomas to source, and our platform has over 1.1 million registered users, with another 20,000 new users added every month.
Each supplier is vetted by an analyst, who uses the data submitted by the company, including its products and services, website, and certifications, to build up a listing for it and place it in the most relevant categories. Additional vetting and verification is done for companies with a Thomas Registered or Thomas Verified badge. Thomas Registered suppliers get special verification for their primary offerings to ensure buyers can easily find them in categories they specialize in, while Thomas Verified Suppliers receive additional vetting for all of their products and services to provide a complete picture of their offerings. We break down the verification processes for these badges in more detail in our article on supplier badging.
Special vetting and validation are also offered for suppliers with a special badge, such as the COVID-19 Supplier badge, which marks companies that have stepped up to offer crucial products and services to combat the 2020 pandemic. Our analysts validate the pandemic-related offerings of each COVID-19 supplier before awarding them a badge, as many have pivoted so quickly the offerings may not yet appear on their websites. If your company has readily available materials or supplies, join the 5,000+ who have already volunteered to help overcome the pandemic.
Our experts do their best to ensure listings have the most up-to-date information, but since the industrial landscape constantly changes, our content is subjected to updates in real-time and we cannot guarantee 100% accuracy. If you notice outdated listing information, please help us out by letting us know. You can do that by clicking on the feedback box on the right side of the page.
How We Curate Product and Service Categories
Thomasnet.com has a constantly evolving selection of over 75,000 categories of products and services to source from, arranged in a branching system carefully curated by our taxonomy team. As opposed to generic search engines, which use algorithms based on keywords, our categories all correspond and are deep-linked to actual products and services by our Content Analyst team. Our experts constantly research and add over 400 new sourcing categories a year to keep up with current trends and all of the products coming into the market.
To keep our product and service categories accurate and up to date, our taxonomy specialists also update, clarify, and remove dozens of outdated categories every year. Because of this work, Thomas is able to ensure users are able to find the products and services they need whether it was invented six months ago or 100 years ago.
How We Build Catalogs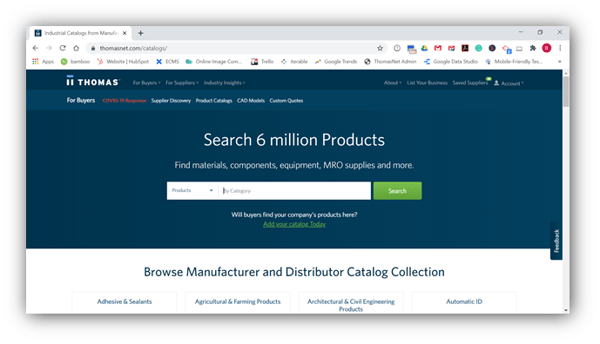 Our product and CAD catalogs are built from information provided directly from hundreds of the top suppliers in industry, such as Oriental Motor, Parker Hannifin, and Baldor Electric. Our team of in-house certified engineers works directly with suppliers to build custom product catalogs using supplier source documents such as PDFs, excel files, and sales drawings. Engineers at Thomas then create a complete taxonomy and structure in each catalog allowing buyers to easily navigate a supplier's offerings and send RFQs.
For custom manufacturers, our engineers build special catalogs to showcase each manufacturer's unique capabilities. These catalogs also display portfolio examples that allow customers to get a gauge on the supplier's expertise before sending an RFI.
How We Create our CAD Catalogs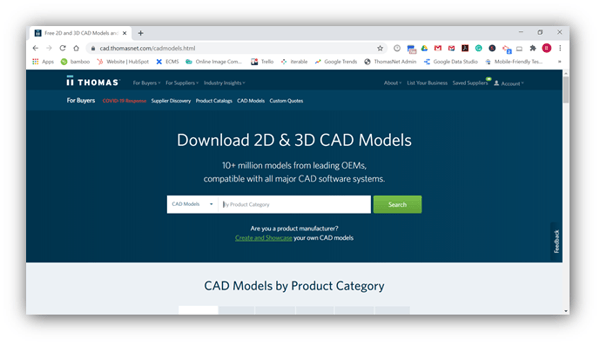 We understand the importance of on-demand product files and information in our highly-competitive industrial marketplace. One of our main features to help in your research and decision making process is our completely digital 2D/3D CAD and BIM services. Using Thomas' CAD catalogs you can gain access and download part number specific models and data to use in your projects instantly.
Thomas' in-house engineering team draws virtually all of our CAD models from scratch to create parametric models to provide your end users with the information needed to simplify their jobs. We have assisted dozens of leading companies to bring these files to you, including Timken, and Swagelok. We provide buyers with access to over 10 million 2D and 3D CAD drawings.
How We Put Together the Thomas Industry Update

The Thomas Industry Update, our daily industrial newsletter, taps into the expertise of notable industry professionals and the latest research to deliver the industry news and unique insights you need to successfully lead your business and advance your career. Designed for professionals across supply chain, manufacturing, logistics, engineering, and other industrial sectors, the newsletter is a trusted news source for a community of over 300,000 industry professionals.
The Thomas Industry Update highlights the latest research, expert insights, how-to guides, trending technologies, and current topics such as additive manufacturing, automation, and Industry 4.0. Check out some of our most popular Thomas Insight content from this past year:
Stay connected with interesting, relevant, and up-to-date information impacting the manufacturing and industrial landscape by subscribing for free today.
How We Develop the Thomas Index Report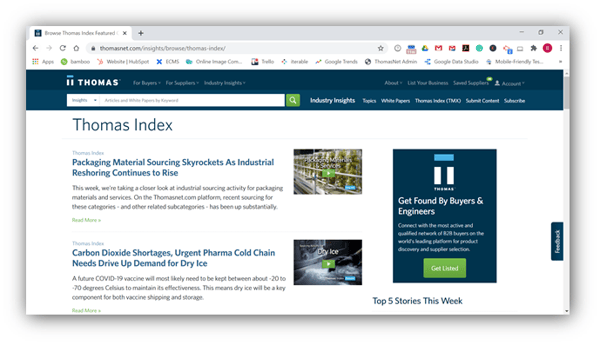 With more than 1 million registered industrial users sourcing on our platform, we have unique insight into the industry trends shaping our economy. By reviewing this sourcing activity and influencing data factors, our team develops weekly Thomas Index Reports, videos that tell the story behind the sourcing and predict what sectors or specific industrial categories may soon be on the upswing. Watch the latest Thomas Index Reports here.
How We Produce the Thomas Industry Update Podcast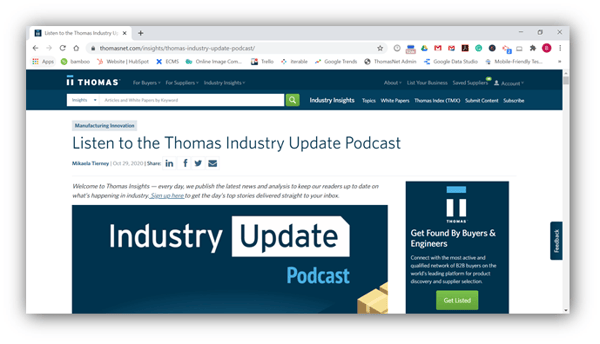 The biweekly business podcast, hosted by Thomas President and CEO Tony Uphoff, features a range of interviews with professionals from across industry to give you the latest updates directly from the front lines. The podcast, rated at 5 stars, covers topics including Industry 4.0, automation and IIoT, the skills gap, recruiting and retaining diverse industrial talent, and company culture, to deliver actionable information for your company.
Get more information and subscribe here.
How We Publish Technical Content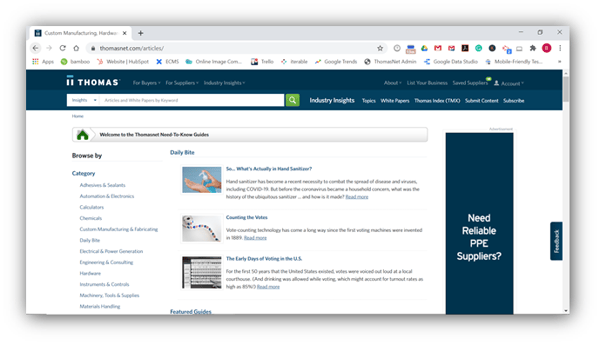 Our platform has over 3,700 whitepapers, articles, eBooks, webinars, and other technical resources to help engineers and procurement professionals get the job done. And we're adding dozens more every month. New topics are carefully chosen by our experts to fill knowledge gaps or educate on new concepts, ranging from lists of top suppliers in various industries, to eBook business guides, to breakdowns on how products work or are manufactured.
Engineers, research experts, and industrial professionals then create dependable, in-depth resources to help engineers and procurers better excel in their positions. Our technical content has been cited by organizations including Scientific American and Quartz thanks to its reliability and in-depth knowledge. Some of our most cited articles across the web include:
How We Compile the Thomas Industrial Survey and Reports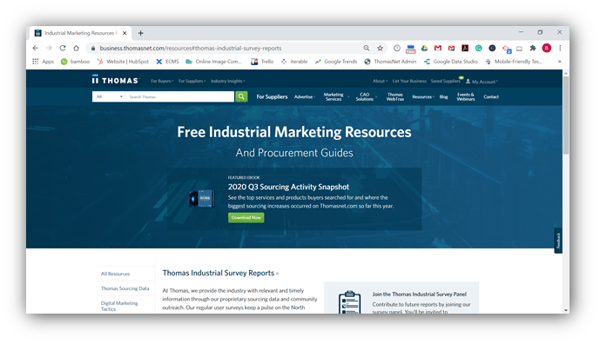 The Thomas Industrial Survey series was launched in February 2020 as a response to the COVID-19 outbreak to keep a pulse on the industrial landscape in the midst of this crisis. Since then, we have surveyed over 4,600 manufacturing companies in virtually every industry including aerospace & defense, automotive, oil & gas, and medical & healthcare. The series garnered a total of 3,452 qualified responses that were used to monitor perception, progress, and communicate solutions to the North American manufacturing sector.
Thomas Industrial Survey Reports are regularly featured in prominent press and media outlets such as CNBC, EETimes, Metal Forming Magazine, and Supply Chain Dive with over 100,000 million media impressions.
To contribute to future surveys and other industry-specific conversations, please sign up for the Thomas Industrial Survey Panel.
How We Construct the Thomas Manufacturing Index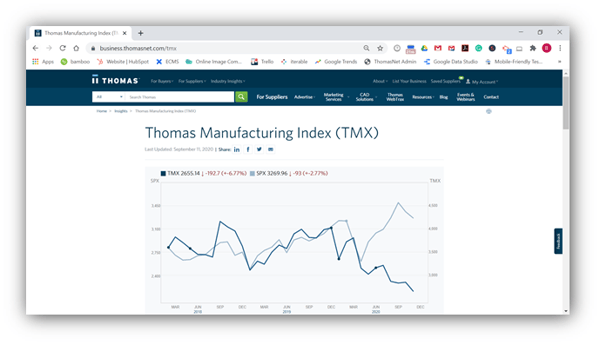 As North America's number one sourcing platform, we are able to track sourcing spikes, trends, and shifts in real-time as thousands of engineers, MRO buyers, and procurement professionals source on Thomasnet.com every day. These tens of thousands of daily actions are fundamental to industrial production and represent a true measure of the health of the manufacturing sector.
The Thomas Manufacturing Index, or "TMX", is an index that measures the industrial activity in the United States and Canada. TMX is built with anonymized first-party data representing a highly diverse set of companies including Fortune 1,000, Mid-Market, and SMBs. This depth and breadth of coverage makes TMX one of the most powerful financial and economic forward indicators to date.
How We Compile Thomas Industrial Data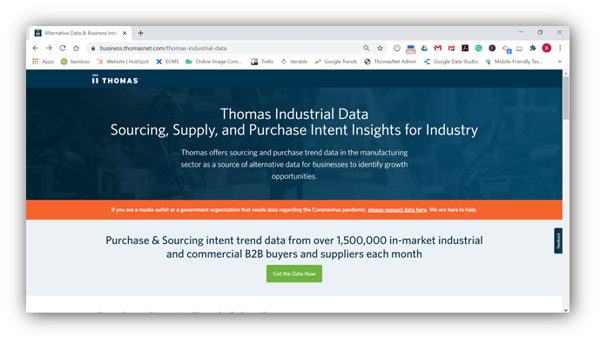 Thomas Industrial Data offers purchase and sourcing intent trend data from over 1,500,000 in-market industrial and commercial B2B buyers and suppliers each month. Our anonymized first-party insight into sourcing and supply trends in the North American manufacturing sector provides an alternative source of data for businesses and organizations. Private equity firms, market research groups, sales and marketing organizations, and our partners use this data to help make strategic decisions and investments that take advantage of current and coming trends.
The Bottom Line
Our dedicated engineers, industry experts, and researchers are driven to bring you the most up-to-date and relevant resources for your sourcing needs. We are constantly looking to provide more in-depth research, unique insights and industry news to help you move your company and career forward. Ready to try our resources out for yourself? Get started on North America's number one industrial sourcing platform today.