Once you've researched potential suppliers on Thomasnet.com, you're ready to connect with the top candidates. To help you communicate effectively, we have different avenues available for communication.
Send RFIs: Request information from suppliers when you're not ready to have a project quoted.
Projects: Submit project proposals that will allow you to make your purchase directly on the site. Once you've submitted a project, you can message with a supplier.
Contact suppliers in a shortlist or saved supplier list: Send messages or project requests to suppliers from lists you've created.
Contact suppliers via phone or website: Call or message suppliers with the contact information available on supplier profiles.
To send project proposals, you must agree to the buyer acceptance criteria presented when you join or use Thomasnet.com.
1. RFIs
Hit the "Request Information" button at the right side of a company's tile in the search results. This will direct you to a form where you can create a message to send to the supplier.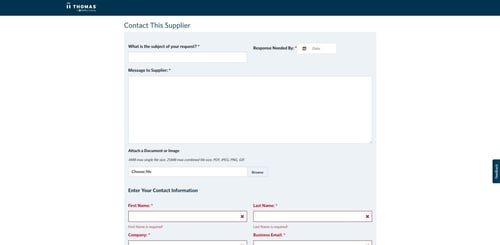 2. Submit Projects
Submitting a proposal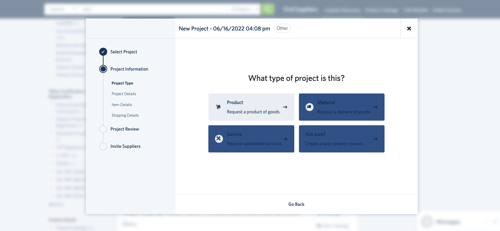 For a more comprehensive request, you can build a proposal using the structured Projects tool. Start on the supplier search page and click the "Quote Your Project" button on a supplier card. This will lead you through a form where you can specify:
Project type
Project details (including uploading files and photos)
Item details
Shipping details
You do not have to complete each section, but by adding as much detail as possible, you give the supplier the opportunity to most accurately quote your project and speed up the project timeline.
At the end of the project building process, you will be able to extend your project invitation to up to 5 suppliers to save you time sourcing. Simply search for suppliers using the drop-down menu under "Suppliers to invite." If you'd like to browse the list of search results more, you can send your message to just the one company and choose the same project later when you find another company to send an RFQ to.
Similar to messaging, the supplier(s) will have the opportunity to accept the proposal and respond or reject it if they don't think the inquiry is a good fit.
You can access, manage and start new project proposals in your Thomas Account under the "Projects" section of the left-hand side navigation panel.
Making a purchase
Once the supplier(s) has sent you a quote in response to your request, you can complete your purchase on Thomasnet.com.
3. Send RFIs to multiple suppliers in your saved supplier list or shortlist
Another way to send project proposals is from a shortlist or the saved supplier lists you've created (you can see how to create one here). To start a project, select the companies you're interested in, using the checkboxes at the upper right of the company tiles. Then click the "Message" button at the top of the list to initiate the process.
4. Contact a supplier directly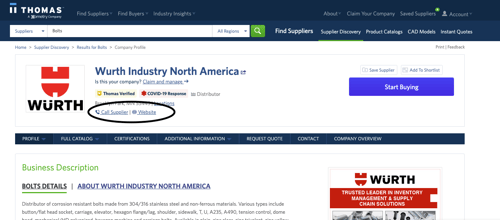 You can also access a supplier's website and phone number on a company profile, if available. This information is located under the company name and address at the top of the page. If your request is urgent, we suggest calling the supplier to follow up with your inquiry.