Navigate Your Thomas Account
At Thomas, we understand that having an easy way to search, evaluate, and connect with more than 500,000 validated suppliers is key to getting your job done. As such, we've designed the Thomas Account to be the hub for your most important sourcing information, such as all of your saved suppliers and recent activity on Thomasnet.com®.
Your Thomas Account is packed full of valuable information and features. Here's what you need to know: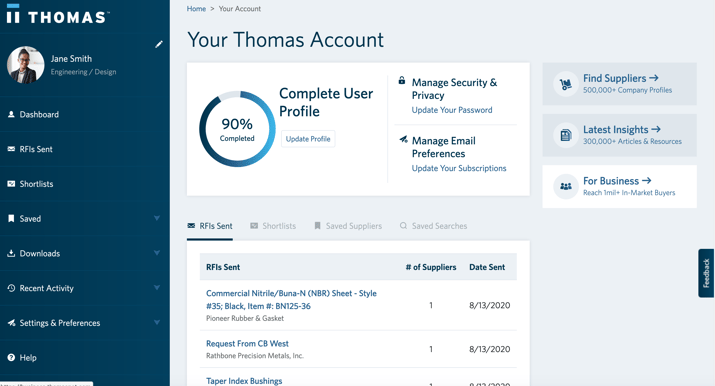 Thomas Account Dashboard
Thomas Account Dashboard is a feature designed to increase the efficiency and productivity of your Thomasnet.com Buyer Experience. You can browse recently created shortlists, recent searches, submitted Requests for Information (RFIs), and more.
---
Side Panel Navigation
The side panel provides quick links to the information that's most important to you.
RFIs Sent
Here you'll find all of your sent RFIs that have been vetted by our team of specialists. This feature allows you to keep track of all of your inquiries and conversations with suppliers in one convenient place.
Shortlists
On this page you can easily edit and manage all of your shortlists. You can also contact suppliers and request supplier summary reports.
Saved Suppliers
Access all of your saved suppliers here. You can view supplier profiles or request a supplier summary report. And if you're further along in your sourcing journey, you can add companies to a shortlist or contact them directly.
Pro tip: You can add suppliers to a shortlist or send an RFI (up to 5 companies) as a group action.
Saved Searches
Saved searches allow you to access previous searches with all filters applied. So if you require a very specific set of certifications or suppliers with unique capabilities, save your search to speed up future research.
Downloads
We understand the effort that goes into your supplier research. We offer free supplier summary reports and in-depth, expertly-written white papers to help inform your buying experience. All downloaded documents are kept in your Thomas Account for reference.
Recent Activity
Need to go back to that last search or supplier? No problem. Access recent past searches and recently viewed suppliers to jump back into your sourcing journey.
Settings & Preferences
Completing your account and keeping it up to date helps us recommend and serve you the most relevant and timely content for your company and career. Under your Thomas Account settings and preferences section, you can personalize your user profile, update your password, and manage your email subscriptions. Please note you cannot change your account email for the time being, but we are working on updating this soon.
---
Feedback
We value your feedback and are always looking to improve our services. If you have questions, concerns, or comments, please select the blue "Feedback" button on the right-hand side of this page and follow the prompts to leave your feedback.
Related Help Center Articles